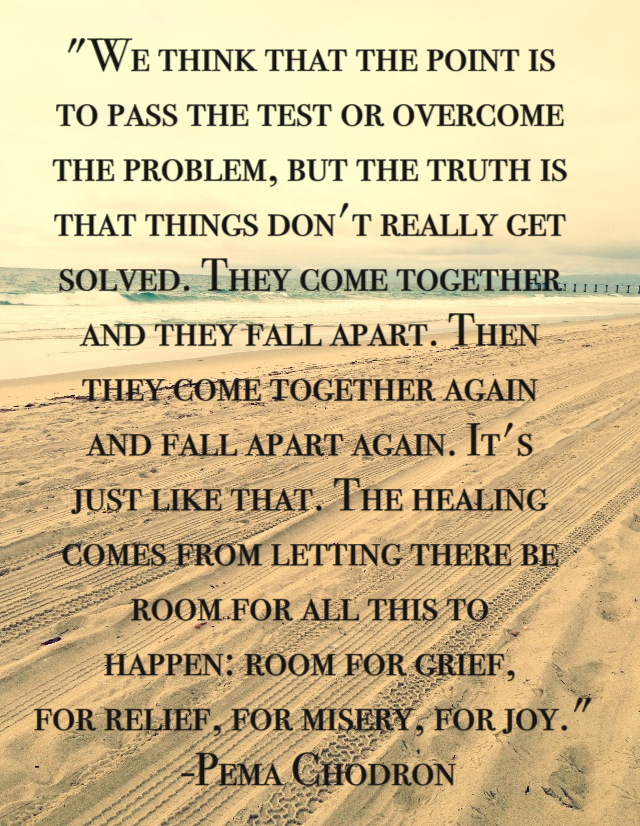 Inspired by this post by Danielle Laporte, I decided to use her format to reflect on 2017 by listing seventeen of the best things I did for myself last year. This is by no means a highlight reel. But it IS a raw and honest look at the things I did that moved me, inspired me, and changed me over the course of twelve months.
And full disclosure, I wrote this at the end of December and it has sat in my drafts folder for over a month. I was scared to hit publish. I was afraid that some of my words here would make me appear fragile. That I would be judged. Labeled. Misunderstood. Cast to that special corner with the people who deal with "mental health issues."
And the truth is that I AM fragile.
And I am also strong.
I am deeply sensitive, intuitive, compassionate and introspective and sometimes my mind gets the best of me.
I am whole and perfect just as I am, on my best days and on my worst days.
And maybe I will be judged and labeled and misunderstood by some.
But maybe, just maybe, I will also be understood by others. And that, in my eyes, is what makes it worth talking about. I believe that vulnerability breeds strength and connection.
In the words of Leonard Cohen, "There is a crack in everything. That's how the light gets in."
And with that, here are seventeen of the best things I did for myself in 2017:
I took an extended medical leave from work for my mental health.
Boom, might as well start with the biggie. And whew, even writing that sentence triggered some of the feelings of shame that I felt when I was in the early stages of this process, but I'm committed to bringing this to light and talking about it, because I think mental health issues are swept under the rug far too often. From the outside looking in, all appeared well in my world this year but on the inside, the story was much different. I was struggling with depression and severe anxiety that had me waking up with full blown panic attacks every morning. Anxiety has always been a factor in my life, but this degree of overwhelm was on an entirely new level and began affecting every aspect in my life until I reached complete emotional, mental and physical burnout – I could barely function. I had to commit to taking a legitimate step back from my life to address things. At first I was beyond ashamed and in denial about taking a medical leave, and SO worried about what people would think. I wanted to keep it all a big secret until I was "better." The feelings of guilt, shame and embarrassment were real. But I had to learn to let those feelings go. My well-being depended on it. And it was by far one of the best and most important decisions I've ever made.
I researched my heart out and began connecting the dots
Along with the anxiety and depression (which are symptoms in and of themselves) I was experiencing a plethora of other physical/mental symptoms that led me to dive DEEP into researching health from a functional standpoint. I was not interested and have never been, in going the anti-depressant drug route. That's my personal choice.  I believe in approaching health from a holistic, whole body perspective and I'm interested in uncovering the root of the issue. So it meant coming to a much deeper understanding of gut and hormone health, the gut/brain connection, nutrition and the physiological stress response, to name a few of the areas I was delving into. I treated it like my full-time job, because well, I had some time on my hands and I was determined to educate myself. I began working with a nutritionist to heal my gut, my adrenals and work to balance my hormones.
I paid close attention to what my body was telling me
Now, it's hard NOT to listen to your body when it literally slaps you across the face HARD in the form of burnout. The physiological response I was having to the chronic stress and anxiety was impossible to ignore. It literally shut down my life as I knew it and forced me to examine all the areas of my life that were feeling forced or out of flow, ie: Where I was lying to myself about my own happiness. But it was a good reminder that our bodies are incredibly intelligent and intuitive and when you're not aligned with your truth, that shit will show up physically in your body, in one way or another. Staying tuned in to the subtle messages our body sends us on a daily basis, whether that's a pimple, or an eye twitch or a panic attack, is so important. I made it my mission to pay attention.
I asked for help
I stopped trying to pretend that I had all my shit together. I crumbled in Michael's arms.  I called my HR Director. I opened up to my bosses. I reached out to my family and close friends. The weight I was carrying on my shoulders began to lift as I realized I was not alone. I had a tribe rallying around me, reminding me that it's ok to fall apart. That it's ok to ask for help. That it's ok to take a step back and literally stop everything to take care of myself. My brother and sister offered to fly out and make a fun journey out of the road trip home and I said hell yes, and thank you.
I said yes to change and whole lot of uncertainty
After some deep contemplation, I made an extremely hard decision to resign from a job I had poured my heart and soul into for the past five years, to step away from my four-and-a-half-year relationship in order to focus on myself, and leave my home in Wyoming to move back to Vancouver. I came across this quote the other day and I think it best describes how I feel about this one.
"When we make a decision, whether it's good or bad, at least it's motion. That motion is what moves us forward. Ironically, whether that motion is in the right or wrong direction, at least it's giving us some better visibility of the terrain around us and helping us learn." – Scott Belsky 
It became clear to me that this healing journey was only just beginning but a change was needed for me to gain more insight and clarity. I knew I wasn't truly thriving in my job or in the town I was living in. Did I have a concrete plan moving forward about anything? Nope. But the glimmer of confidence I felt about making a change and following my intuition was enough. I clung to it and held on for dear life.
I took a six week break from social media.
I knew I was in a crucial period in my life and I wanted ZERO distractions from the digital world. We're talking NO logging in for six weeks. I deleted all the apps off my phone and logged out of the websites on my PC. I immersed myself in the work of getting clear on the deepest whisperings of MY soul.  I didn't want any inspirational quotes, or other people's highlight reels, or reminders of work seeping into my psyche and soul. I needed to shut off all the noise so I could listen in HARD. And it served as a good reminder that social media is kinda fun but mostly weird, a total time suck, and definitely worth creating healthy boundaries around and taking a legitimate break from every now and then to gain some perspective on what and who really matters in life.
On a similar note, I also followed through on my 2017 intention to keep my cell phone out of my bedroom for the entire year and it was a total gamechanger. I bought an analog alarm clock and plugged my cell phone down the hall in another room. My bedroom became a beautiful, technology free zone devoted to sleep (and sexy time and the odd nap). I read more books, I slept better and I began and ended my days checking in on my heart and my breath, rather than my phone. Nothing on those little screens is that important.
My meditation practice became non-negotiable
I won't say much here because my meditation teacher Jon Kabat-Zinn says there is no need to talk about your meditation practice, and the moment you have the urge to, you should "just look at it as more thinking and go meditate some more." 🙂 But for the purpose of my list, I will say that my meditation practice is a non-negotiable in my life and will be for the rest of my days on this earth.
I reminded myself again and again that we all have our own shit to work through and we're all on our own path
I wrestled with intense feelings of guilt over my situation, harshly judging myself on all levels. The "shoulding" was out of control. I should be able to get a handle on everything, I should be stronger than this, I should be happy, I should be more grateful,  I should have my life more figured out by now, I shouldn't be so stressed, I shouldn't be taking this leave from work. But here's the thing I've had to get a grip on and keep reminding myself. Everybody and every 'body' handles stress differently. Everybody's brains are wired differently.  When it comes to anything in life, what works for one person might not work for another. Most of the time, we're all just doing our best. We're all working through our own shit in our own ways– past emotional trauma, grief, heartache etc. Not to mention that most of us are walking around with drained energy, leaky guts and loads of inflammation in our bodies and we just accept that feeling shitty is normal. Bottom line – be kind, for you never know what someone is going through. Looking back now, I realize I was in a complete anxiety ridden brain fog that was causing me to be irrational and extra sensitive in many of my relationships. (Michael deserves an unsung hero award for realz).
I took a break from teaching yoga
My teacher and friend Mary Beth once referred to her yoga mat as a "life raft" right there on her living room floor, and I definitely felt that way this year. After teaching yoga once a week for three years in my community, I felt like I needed a break to focus more on my own practice, which if I am completely honest, I don't think I ever really did until this year. The break allowed me to make some important discoveries about my personal and teaching practice.
I went to Tulum, Mexico!
Because let's be real, it wasn't all heavy! Michael and I enjoyed a fun and relaxing week in Tulum, where we sunned and swam on the most gorgeous beaches, ate amazing food and drank all the margs, chillaxed in hammocks, played with spider monkeys, visited the ancient ruins of Coba, and capsized a kayak and swam a mile back to shore (I'll save that story for another time).
I read some incredible books.
I might write another post reviewing some of the books I read in 2017, but the most impactful reads for me this year were:
When Things Fall Apart by Pema Chodron
Wherever You Go, There You Are by Jon Kabat-Zinn (When it comes to meditation, he's my guy through and through). This was my second read of this one and it hit me way harder this time.
Desire Map by Danielle Laporte
White Hot Truth by Danielle Laporte (I was all over DL's work this year).
Braving the Wilderness by Brene Brown
I had some real, vulnerable conversations
If there was weird energy, or I felt hurt or 'unseen' or angry or confused in any of my relationships, I voiced it. And in the instances when I didn't do that, I examined any passive aggressive tendancies and challenged myself to do better. I would ask myself: What am I truly feeling, where is that feeling originating and what do I really want and need this person to know?  And every time I took that approach, and took a pause before reacting, there was honesty and there was growth. I definitely  didn't get this perfect every time, but it's a process that I keep relearning and practicing.
I gifted myself a yoga retreat with Elena Brower in Costa Rica
Attending one of Elena's retreats has been on my bucket list for awhile, so when I booked this trip earlier this year, little did I know that it would come at the perfect crossroads in my life. It was a transformative and highly vibrational week that I'm still processing.
I became a podcast junkie
I had to include this because it really is one of the best things I've done this year! I've learned SO much from the hundreds of podcasts I've listened to. My favorite way  to listen is on my daily walks with Penny, or while I cook or clean or drive or shower. I guess basically while I do anything, ha!  Just like books, I tend to gravitate towards podcasts about health, personal growth and spirituality.  I've uncovered a lot of things about myself.  I've listed some of my favorites over here if you're interested.
I made live music a priority
Live music brings me JOY! So I bought some tickets to see Jack Johnson, Zac Brown Band and Iration, and I loved every minute of dancing and singing along to my favorite songs at some really cool outdoor venues in Jackson Hole and Denver. A good reminder that prioritizing the things that bring us joy, whether big or small, is always worth it.
I brought my dog Penny with me to B.C
This was probably the hardest decision I had to make concerning my move and I agonized over whether to take Penny away from Michael and her buddy Kaiya and her life in Wyoming. Ultimately, I decided I wanted and needed her with me and she's been a trooper through the transition, though her hips aren't handling BC's damp winter weather well so far and she's been a little down without the other half of her family. But we keep each other accountable on getting fresh air and exercise every day and she's enjoying chasing all the Canadian squirrels and bunnies everywhere. Having her close by is good for my soul and intuitively I think she knows that it's been a rough year. She's my furry fierce little protector 🙂
17. I practiced surrendering myself to the truth that nothing is certain in life and change is the only constant.
That this is it. The in-between, the grey area, the uncertainty, the ordinary, the becoming. How we softly handle our own hearts and minds in these moments is what leads us home to our most authentic self. In the words of the brilliant Mark Nepo, "I think I'm becoming unfinished."
Wishing you a year of love, adventure and self-discovery
Rosalyn
xo