This week's Friday Five – a list of things that moved me this week.
What I'm smiling about:
Margaret Atwood tweeted me! I know, I know. I'm a dork, but it's not every day a Canadian icon tweets you! We discussed squirrels. It was important stuff.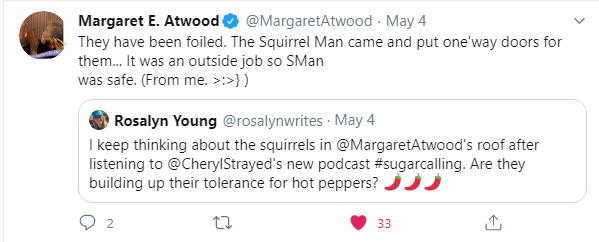 What I'm listening to again:
Oprah and Tracee Ellis Ross: Your Life in Focus
A friend sent me this podcast when I was hiking in Zion in February and it was truly perfect timing. I listened while I took a bath one night in my hotel to soothe my tired legs. As a single woman in my 30's who hasn't chosen a traditional path in life, this conversation spoke to me. I needed to hear it again this week. And I'm sure I'll keep listening to it.
What I'm reading:
I finished Becoming Mrs. Lewis by Patti Callahan this week and I'm in that mourning stage when an excellent novel comes to an end. This book has been like a warm cocoon for the last month, and I predict it will be my favorite book of the year. It falls in the historical fiction category, chronicling the life of American writer Joy Davidman and her relationship with famed author C.S. Lewis. I read the Chronicles of Narnia as a kid, but aside from that, I didn't know much else about Lewis and I knew nothing of Joy Davidman. I loved Joy's tenacity and determination to lead an artistic life at a time (1950's) when women weren't encouraged to do so. I can't decide if I'm more impressed with the writing and story itself or the sheer amount of work that Callahan must have done to bring this book to life. All of it, really. What she has accomplished is remarkable.
Apparently, there's a 1993 Oscar nominated film called Shadowlands about Lewis and Davidman's story which I'll have to get my hands on. It stars Anthony Hopkins and Debra Winger.
Quote I'm pondering:
"Consistency beats intensity. Consistency beats volume. Consistency beats passion. Consistency dictates results. Consistency is what defines character." – Rich Roll
Favorite image of the week:
A stump I came across in the woods. Look close, it's incredible.